This article is an unsolved case!
You can help the New Tricks Wiki by expanding it.

Visit the
Open Cases
page for more help.
| | | |
| --- | --- | --- |
| " | It was just as we'd imagined. A mauseleum to the living dead. People with all their life crushed out of them. No, this is better [working with UCOS], this is where I belong. | " |
|   | | |
John Halford was a Detective Chief Superintendent[5] for the Metropolitan Police Service, retiring in 1998. After only five years, he came out of retirement to assist one of his old subordinates, DSI Sandra Pullman, in setting up UCOS. In 2012 he resigned from UCOS due to health reasons and subsequently died of liver cancer a few months later.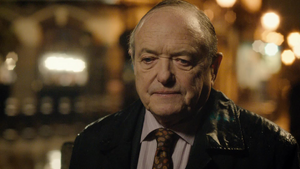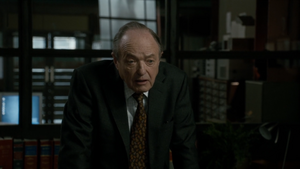 Trivia
James Bolam, who portrays Jack Halford, is the real-life spouse of Susan Jameson, who portrays Esther Lane.
Jack was once Sandra Pullman's superior, and possibly her first "Guv'nor", hence why she went to him first for advice on candidates for UCOS.[6]
Jack is the first person from the original team to leave, and the first to die, dying only a couple of months later.[7]
He met Mary Cooper, whom he would later marry, at Brighton Pier on 5 August 1961 - she wore a pink dress, matching the candy floss that Jack bought her.[3]
It is very clear that Jack was close to his late wife to the extent that he still considers her alive and talks to her grave in his back garden. The rest of the team try not to think much of it - Brian Lane has even "talked" to Mary in a similar fashion when Jack disappeared in 2008.[8]
He wife, Mary, gave him an audio cassette recorder when he became head of the Murder Squad in 1982.[2]
Jack has no children and no other immediate relatives. In his will he decided to leave all of his inheritance to Sandra Pullman.[9]
His desk at UCOS was inherited by Gerry Standing - Standing justified this by claiming to be "the most senior member" for the team.[10]
He can speak fluent French.[11]
There is a dispute as to what his final rank was before retirement. On a police report filed in July 1975, it is stated that he was a Detective Chief Inspector[12] however on his official bio page on the BBC website it is stated that he was a Detective Chief Superintendent.[1] It is possible that this was simply a continuity error but it is also possible, and more likely, that he was promoted to the latter between July 1975 and his retirement in 1998.
References
Community content is available under
CC-BY-SA
unless otherwise noted.